Skip Navigation
Website Accessibility

Blue Hen Quilt Shop News!

---
Look at this project! It is practically Free!
More details in the Newsletter!
Want to Wear Your Art? Join Christine for this Amazing Class!
Got to click the newsletter to get the details!
How About our Second Saturday Event with Pauline Copeland!
Lecture and Workshop details in the newsletter!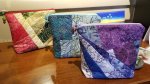 And
Join us for this year's
Handi Quilter Event!
Click that link!
Please click on the Newsletter link to inspire your imagination!
Newsletter Link
Roll your mouse over the words and find the links.
Click on the links in the newsletter to take you to our website for more information.


Blue Hen Quilt Shop
705 Interchange Blvd, Newark Delaware 19711
302-533-5215 www.bluehenquiltshop.com