Skip Navigation
Website Accessibility

Blue Hen Quilt Shop News!

---
Thank you all for subscribing to our Newsletter!

This email newsletter is packed with inspiring pictures.
Your email program may hide these pictures until you click on a button to display the images!
Click that button! It's worth it!


What's New at Blue Hen this month!

A beautiful blender collection!
Awakenings - butterfly panel and stunning companions!

Cork -great for bags, wallets and totes! Several colors to choose from!

Cardinals for Christmas - beautiful silver metallics!

---
The Janome 9400 is being upgraded to the Janome 9450! We've got a few 9400s in stock that can be yours for a great price! Click on the link or come on in and check them out!

---
Attention All Long-armers, Mid-arms, Sit-down and domestic machine quilters and even those of you who want to learn to machine quilt! This is for you!

Four workshops taught by HandiQuilter Educator Jane Hauprich.
$35 each. Get a 10% discount for signing up for all four!

Saturday, October 27th
9am - Noon
FAST, FUN AND FABULOUS FREE MOTION QUILTING FUN
Quilters everywhere LOVE the excitement and fun of free motion quilting – and it's easier than you think! Create flowing designs by connecting simple design elements with continuous lines, traveling across the quilt or filling in a specific area. Learn how drawing and muscle memory contribute to beautiful free motion quilting, and how to create stunning designs.
Saturday, October 27th 1pm - 4pm
BACKGROUNDS, BORDERS AND BLOCKS
Blocks, backgrounds, and borders – these are the basic components of many pieced quilt tops, and there are tricks to quilting them with a cohesive overall look, while creating your own personal style. Learn how to select and adapt designs to complement each area, and how to accomplish the quilting efficiently and easily. Tried and true fillers and "go-to" designs will be featured.
Sunday, October 28th 9am - Noon
RULER ESSENTIALS
If you love precision and consistency in your quilting designs, you will love using design rulers and templates! These handy tools assist in placing designs accurately and stitching them out precisely. Learn to handle rulers and templates safely with the ruler base and Sure Foot, and how to achieve accuracy with the markings. The wide variety of Handi Quilter rulers will inspire you to new design heights.
Sunday, October 28th 1pm - 4pm
YOU CAN DO THAT ON A LONGARM, TOO?
A longarm isn't just for quilting tops! Come see how techniques usually done with a sewing machine can be accomplished with a longarm machine. You'll leave with brilliant shortcuts and ideas for quick and easy projects, and a whole new perspective on what's possible with a longarm!
---
Classes in October
Long Arm Club

Saturday, Oct 20th 9:00 - 10:30 $15
Drawing and Thread Painting with your longarm!

Strip Club - Jelly Roll Race!
Saturday, Oct 20th 1:00 - 4:00 $10

Open to anyone who has attended at least one of the Strip Club events over the past year! Come try your hand at fast sewing! What a great way to use up 2-1/2" strips!

---
Sneak peak into the future...
Make n Take - Draw String Bag

Saturday, Nov 3rd 9:00 - 10:00 $5
Quick and Cute Tuffets and Squffets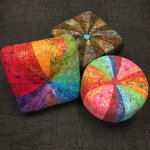 Saturday, Nov 3rd 10:30 - 4:00 $50
Round or square! Choose your style and lets get it done in a day!


---
Star Studded!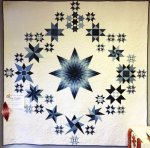 This Block of the Month comes with a monthly class! Nine months from start to finish. Each month will be a slightly different technique to put the star together - a little foundation piecing, templates, english paper piecing, strip piecing... you get the idea! Do it in blues or reds or black and grays. Sign up now - starting in November. $31.95 a month. Click here, c
all or come in to sign up now! 302-533-5215
---
Don't forget that Fridays are our Sewing Bee Days - come in and join the fun! Bring a project you are working on, meet new friends and get some quilting done! 10am - 4pm.

Thanks so much for subscribing to our newsletter! Hope to see you soon!
Erin




73 Marrows Road
Newark DE 19713
302-533-5215