Skip Navigation
Website Accessibility

Blue Hen Quilt Shop News!

---
Thank you all for subscribing to our Newsletter!

This email newsletter is packed with inspiring pictures.
Your email program may hide these pictures until you click on a button to display the images!
Click that button! It's worth it!

---
What's New at Blue Hen this month!

Night
Spellbound
Awakening

One of about 30 new Australians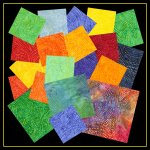 Tonga Rainbow Batiks


Emoticons!
Lacrosse anyone?

Can't get enough of Cheryl Lynch's Mini Mosaics! Love that Modern Love heartbeat pattern. Does that Skyline look familiar? And if you'd like to have a simple little Everygreen tree this year, this one's for you!


The shelves are filling up! And our prices are holding steady! Have you checked them out lately? Most of the fabric ranges from $8.00 a yard to $10.95! Even the batiks!

---

Did you see the announcement for our Janome Club? Do you own a Janome and want to really want to really use it? Or are you thinking about buying one? Our Janome club is free with the purchase of a Janome machine from the Blue Hen. If you already own one, you can join for the introductory fee of $95. The club features 11 classes that will highlight fun projects to really use your machine to its fullest! First class is Tuesday, October 2 from 10am to 1pm. An evening/weekend event will be added as needed. Click on this Janome Club Link to see what else comes with the club.


---
HandiQuilter Founder's Day Celebration! They are celebrating 20 years in business and who better to thank than you! Check out all these great Promotions! Good only for a limited time - expires September 17th so HURRY! We'll get you all fixed up with your dream machine! Founder's Day Sale

Meanwhile, here's some new Long Arm Pantographs just in!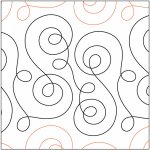 And check out the New Square Foot from Handiquilter!

Great for adding binding on your quilt while it is still on the frame. Or how about piecing your quilt right on the frame! Lots on innovation going on at Handiquilter! It's been so popular it is currently on backorder. Call us if you want one - we will put you on the list!

---

HandiQuilter Event coming! Saturday, October 27th and Sunday, October 28th.
Four amazing classes being taught by HandiQuilter Educator Jane Hauprich. Are you interested? $35 each or sign up for all four and receive 10% off!
Fast Fun and Fabulous Free Motion Quilting - Saturday, Oct 27 9 - Noon
Backgrounds, Borders and Blocks - Saturday, Oct 27 1 - 4pm
Ruler Essentials - Sunday, Oct 28 9 - Noon
You can Do That on a Long Arm too?! - Sunday, Oct 28 1 - 4pm

---
Classes in September

Tumbling Triangles with Julia Penna

Two session Sept 8th 9am - Noon and Sept 22nd 9am - Noon $50
Poppins Bag with Mitzie Keys

Three sessions Sept 8th 1-3pm, Sept 15th 1-3pm and Sept 29th 11am - 4pm $60

Long Arm Club

Saturday, September 15th 9:00 - 10:30 $15
Julia will introduce you to Elvira and Archie!


Ruler of the Month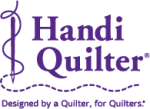 Saturday, September 15th 11:00 - 12:30
New club session started August! Call the shop if you are interested! It's never too late to join!

Strip Club

Saturday, September 29h 9:00 - 10:00 $10
This is the last one! Mitzie is working on it now - our Timeless Treasures Studio Ombres are perfect! The club finished up with a Jelly Roll Race Competition on Saturday, October 20th at 1 pm! If you have attended at least one Strip Club event, you are eligible to participate.

Handi Quilter LongArm Rental Training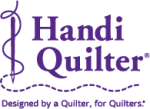 Three-hour mandatory training session before renting our Handiquilter longarms. Classes scheduled for most Wednesdays or call and talk to Erin about another time slot.
---
Sneak peak into the future...
Make it and Take it - Fabric Flower Fun!

Saturday, October 6th 9:00 - 10:00 $5
You will make one flower. No machine required - bring hand sewing supplies.
---
New Block of the Month starting in November!

Star Studded by Erin Underwood
9 Month commitment - $31.95 a month


This project includes the monthly class! Meeting the first Wednesday of every month, we will be learning new techniques as the stars come together! The sample is blue and white. Other color palettes available include red and whites, black and white, maybe more... Class will be Wednesday afternoons from 2pm to 5pm or Wednesday nights, 6pm to 9pm. Reserve your spot online here. A $10 reservation deposit will be credited to your first months' charge. You can also call or come in to sign up now! 302-533-5215
---
HELP!
It's been an amazing couple of years and we keep getting bigger and better thanks to all of you. As a result, we need more help! Blue Hen is hiring again! We are looking for someone who is willing to work flexible hours and loves fabrics, sewing and machines! Contact Erin or John for more information or come in and fill out an application. info@bluehenquiltshop.com 302-533-5215

---
Don't forget that Fridays are our Sewing Bee Days - come in and join the fun! Bring a project you are working on, meet new friends and get some quilting done! 10am - 4pm.

Thanks so much for subscribing to our newsletter! Hope to see you soon!
Erin




73 Marrows Road
Newark DE 19713
302-533-5215

---