Skip Navigation
Website Accessibility

Blue Hen Quilt Shop News!

---
Thank you all for subscribing to our Newsletter!

This email newsletter is packed with inspiring pictures.
Your email program may hide these pictures until you click on a button to display the images!
Click that button! It's worth it!

---

Janome Open House Week!


Monday, August 27th - Saturday, September 1st!




Come in to the shop during our Open House and check out our great prices on Janome machines. Join our new Janome club and become eligible to win a great Janome prize!

Janome club is only open to Janome machine owners. We will meet once a month to learn and create with our Janome machines. In addition, you will receive 20% off all Janome products on club days! Bench fees for service and repairs are discounted too! If you purchase a Janome from the Blue Hen Quilt Shop, you receive one year's membership to the club for free!


---
What's New at Blue Hen this month!


Moody Blues
Vineyard Valley
Wanderlust
Enchanted Floral
As well as several batiks and 20 more Australian prints Come see! Check out our New Arrivals Page here!
---
Can't decide which furry critter you love best - have them both in this fun Dogs & Cats pattern!
Need a new beach tote - these two great patterns just came it!
Satchel it!

Want to do a little fabric weaving... check out this Wefty Needle.

---



Handiquilter Ruler of the Month Club has just a few more spaces left!


These rulers are pretty cool! They work for both long arms and sit down/home machines Check them out here! $29 a month for six months or save 10% by paying in full - $156.60! Starts August 18th!


HandiQuilter Event coming!
Four amazing classes being taught by HandiQuilter Educator Jane Hauprich. $35 per workshop or save 10% and sign up for all four! Call the shop and get on the list!
Fast Fun and Fabulous Free Motion Quilting - Saturday, Oct 27 9 - Noon
Backgrounds, Borders and Blocks - Saturday, Oct 27 1 - 4pm
Ruler Essentials - Sunday, Oct 28 9 - Noon
You can Do That on a Long Arm too?! - Sunday, Oct 28 1 - 4pm

---
Classes in August
Atlantic Flyaway with Jackie Mowday

Saturday, August 11 9:30 - 3:30 $40
Fast flying geese using Deb Tucker's Wing Clipper Tool!
Long Arm Club


Saturday, August 18th 9:00 - 10:30 $15
Come see how Jody plans her free motion quilting!

HandiQuilter Ruler of the Month - First meeting for this session!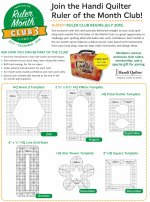 Saturday, August 18th 11:00 - 12:30


Hexi ruler featured - See above for more details!

Hand Quilting with De Taylor
Come spend a few hours with De and learn to hand quilt. De is a prolific handquilter and full of wonderful tips and techniques for you to get started. Kit included in class fee. Bring a thimble, thread snips and perhaps a needle threader!
Saturday, August 18th - 1:00 - 3:00 $25

Strip Club

Saturday, Aug 25th 9:00 - 10:00 $10
Ours is going to be a little bit beachy! Working on it now - come see!

Star Runner with George Simacourbe


Saturday, Aug 25th 10:30 - 3:30 $35
Three different techniques to choose from when creating this little beauty!

HandiQuilter Longarm Training Classes


Several times to choose from - come on, give it a try! $60

---
Sneak peak into the future...
Make n Take - Rotary Cutter Safety Case

Saturday, Sept 1st 9:00 - 10:00 $5
---
Don't forget that Fridays are our Sewing Bee Days - come in and join the fun! Bring a project you are working on, meet new friends and get some quilting done! 10am - 4pm.

Thanks so much for subscribing to our newsletter! Hope to see you soon!
Erin




73 Marrows Road
Newark DE 19713
302-533-5215