Skip Navigation
Website Accessibility

Blue Hen Quilt Shop News!

---
March 2018 73 Marrows Road, Newark, DE 19713 302-533-5215
Thank you all for subscribing to our Newsletter!

This email newsletter is packed with inspiring pictures.
Your email program may hide these pictures until you click on a button to display the images!
Click that button! It's worth it!


The time has come! Our Quilts Around the Bay Shop Hop starts Friday! Free patterns, prizes to win, and all 9 shops are freshly stocked and ready for you! Grab your friends and start hopping! The hop last 10 days, March 2-11. Go check out everyone's blocks and quilt settings on the Quilts Around the Bay Facebook page. We can't wait to see you!
Here is Blue Hen's free block! And our two setting options! We couldn't decide on a background - which do you prefer?
And for all of you who wished that our Chesapeake Blues 2017 Shop Hop quilt were in your house, we are offering it up for sale during the Hop! Silent Auction Style! Come in and place your bids! We will announce the winner on Monday, March 12!


Meanwhile, here's some new things to inspire you!

Confetti Blossoms
Soiree
Seafood Shack
Mermaid Wishes


Stonehenge Prehistoric

We also have some beautiful new Timeless Treasures White-on-Whites we know you will love, as well as restocking our P&B Textiles White-on-Whites! They make great backgrounds for the white version of our Shop Hop quilt! And the price is just right!

---

Classes in March:

NOTE: Due to the Shop Hop, there will be no Friday Sewing Bee March 2nd or March 9th, and no Make It Take It on March 3rd.


Longarm Club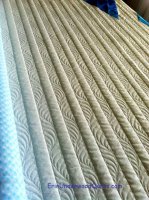 Saturday, March 17 9:00 am - 10:30 $15
or Monday, March 19th 10:00 am to 11:30 $15
Sign up for the club under "Saturday" but come to either session. We will be playing with background fillers this month!

HQ Ruler of the Month Club
Call the shop for details.
Saturday, March 17 11:00 - 12:30
Poppins Bag with Mitzie Keys

3 sessions, starts Saturday, March 24 - $60
Handi Quilter Long Arm Rental Training Class with Erin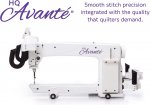 $60 Several times to choose from - or call the shop to set up a time that works for you!



Strip Club




Saturday, March 31 9:00 - 10:00 $10 includes featured pattern shown above. Demos Door Prizes and Donuts!

Blue Hen Paper Piecing Club




Saturday, March 24, 1:00 - 4:00 pm $10


We are on Block #12, the last one!!!

And coming up in April...
Featherweight Maintenance with George Simacourbe

A must class if you have a Featherweight!
Saturday, April 28th, 10:30 - 1:30 $25
---
Graphic Gems Block of the Month is starting soon. Our sample is finished and it is much prettier in person. Come in a take a look - maybe you will want one for yourself!
---
Don't forget that Fridays are our Sewing Bee Days - come in and join the fun! Bring a project you are working on, meet new friends and get some quilting done! 10am - 4pm. (However, canceled for March 2nd and 9th due to the Shop Hop.)

Thanks so much for subscribing to our newsletter! Hope to see you soon!
Erin nnd John




73 Marrows Road
Newark DE 19713
302-533-5215