Skip Navigation
Website Accessibility

Blue Hen Quilt Shop News!

---
Thank you all for subscribing to our Newsletter!

This email newsletter is packed with inspiring pictures.
Your email program may hide these pictures until you click on a button to display the images!
Click that button! It's worth it!

---
What's new! Could it possibly be a New Year's Resolution? Have you considered making a resolution to try new techniques in quilting, take a class or two, stretch your skill base with a new pattern... lets see if we can help you with that!

Water Garden Block of the Month has five slots left! If you want to make this beauty, give us a call. $31.50 per month, 7 month program.

Ours is hanging right by the front door - come see it!

Graphic Gems Block of the Month starts in March. We've got the fabric in and are starting to make ours. The pictures just don't do this batik beauty justice. Come in and see it for yourself! $32.95 a month for nine months - And yes, if you do your homework and bring it back in before the next block is released, you can save 10%!


Fun Patterns to get your New Year off to a good start!

Cut and Sew
Lisa the Unicorn
Mod Owls

Tradewinds
Atomic Starburst
Blossoms and Spokes.

(We did get some new fabric in but I can't show it to you yet... soon, though, soon... ;-)

---
Clubs in January
Long Arm Club

Saturday, January 20th 9:00 - 10:30 $15
We will cover techniques for stand-up long arm machines. Areas to be covered will vary monthly, but will be geared towards building your long-armed skills, and challenging your creativity for free motion quilting by incorporating usage of rulers and quilting gadgets among other techniques. This class is lecture-demo with some hands on. Some discounts on Long Arm accessories will be featured each month. No matter which machine you own you will learn techniques to help build your quilting skills. This club will meet the third Saturday of each month at 9am. January is Couching and Quilting!
Handi Quilter Ruler of the Month Club
Saturday, January 20th 11:00 - 12:30
Six Month program for $29.00 a month or pay all six months in advance and save 10%!
Get exclusive ruler kits and tutorials delivered straight to your local quilt shop each month! The HQ Ruler of the Month Club is a great opportunity to challenge your quilting skills and build ruler work confidence. Each month in the six-month series features a debut acrylic ruler paired with mentorship from your local shop, step-by-step video instruction, and design ideas. You do not have to be a Handi Quilter owner to participate!
Blue Hen Paper Piecing Club
Saturday, September 20th 1 - 4 pm $10
Three more blocks to go! This month features block #2 Peacock Feathers.

Strip Club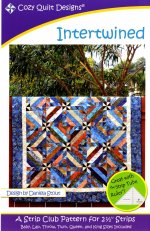 Saturday, January 27th 9 am $10
Intertwined

---
Classes in January
Make it and Take it

Saturday, January 6th 9am $5
Microwave Bowl Cozy

It's a Beauty! with Erin Underwood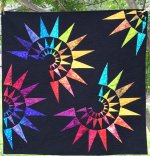 Saturday, January 6th 10:30 - 3:30 $35
No Paper Piecing!

Quick and Cute Tuffets and Squffets with Erin Underwood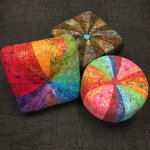 Saturday, January 13th 9:30 - 3:30 $50

Simply Binding with Erin Underwood


Wednesday, January 17th, 6pm - 8pm $20



Dahlia Delight with Erin Underwood




Saturday, January 27th 10:30 - 3:30 $35



Handi Quilter Long Arm Rental Training




Various Times available - $60.
Don't see one that works for you. Call the shop - we can set up a time just for you!

---
For Sale!
Used Accuquilt Go Studio Cutter! With 19 Dies - some in better condition than others - but all work.
$595 for the whole shebang! Call the shop or email info@bluehenquiltshop.com if interested.

---
Cruising Season is fast approaching - have you booked your vacation yet?


Hurry, spaces are filling up fast! St. Thomas, New England, Bermuda, Alaska... with great teachers and projects to keep you busy at sea! Check out Quilt and Cruise (click the link) or go to the facebook page
https://www.facebook.com/quiltandcruise/ for more information.


---

Don't forget that Fridays are our Sewing Bee Days - come in and join the fun! Bring a project you are working on, meet new friends and get some quilting done! 10am - 4pm.

Thanks so much for subscribing to our newsletter! Hope to see you soon!
Erin




73 Marrows Road
Newark DE 19713
302-533-5215