Skip Navigation
Website Accessibility

Blue Hen Quilt Shop News!

---
Thank you all for subscribing to our Newsletter!

This email newsletter is packed with inspiring pictures.
Your email program may hide these pictures until you click on a button to display the images!
Click that button! It's worth it!

---
What's New at Blue Hen this month!
Water Garden Block of the Month starts January, 2018.


Come see this stunning quilt hanging in the shop! We featured the Blue Heron in our quilt but you have the option of the bridge panel or simply piece the center section with more stars! $31.50 a month for seven months AND if you finish your blocks each month before the next set is available, you can receive 10% off the next month's blocks! Sign up today!


Some beautiful Stonehenge and the stunning Wonderlust fabrics - you've got to stop in and see these two collection!

You are My Sunshine fun panel and coordinating prints!

Patterns to play with - Love the Poppin Bag - just like Mary Poppins! Mitzie is working on our sample now!


---
Classes and Clubs in December

Yellow Brick Road with Mitzie Keys
Tuesday, December 5th 10 - 2 $25



Handi Quilter Long Arm Rental Training Class with Erin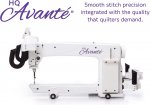 $60 Several times to choose from - or call the shop to set up a time that works for you!

Blue Hen Paper Piecing Club
Saturday, December 16th 1 - 4 pm $10
Block 7! These blocks are 15" wide and would make a great wall hanging or pillow too! Join us any time to start working on yours!


Strip Club
Saturday, December 30th 9 -10 am $10
Pattern comes with the club fee! Join us for Show and Tell, Door Prizes, Demos and Donuts. And if you finish the top to last month's Strip Club project, you get 10% off your shopping after the meeting!
---
Sneak Peak at January, 2018!
Make and Take - Microwave Bowl Warmer
Saturday, January 6th 9-10am $5
It's A Beauty with Erin Underwood




Saturday, January 6th 10:30 - 3:30 $35




No Paper piecing!



Handi Quilter Long Arm Club - Third Saturday of each month starting January, 20th 9 - 10:30.


No matter which brand of machine you own, you will learn techniques to help build your quilting skills.

Areas to be covered will vary monthly, but will be geared towards building your long-arm skills, and challenging your creativity for free motion quilting by incorporating usage of rulers and quilting gadgets among other techniques. This class is lecture-demo with some hands on. Some discounts on Long Arm accessories will be featured each month. (Free to those of you who have already purchased a Handi Quilter machine from the Blue Hen Quilt Shop!)



Handi Quilter Ruler of the Month Club -

T

hird Saturday of each month starting January, 20 11 - 12:30


Get exclusive ruler kits and tutorials delivered straight to your local quilt shop each month! The HQ Ruler of the Month Club is a great opportunity to challenge your quilting skills and build ruler work confidence. Each month in the six-month series features a debut acrylic ruler paired with mentorship from your local shop, step-by-step video instruction, and design ideas. Be the first to get these rulers! Join now! You do not have to be present to participate. We will happily ship your new ruler with training information included!

---
Handi Quilter News!
John and I have returned from our week long Retailers Training at the Handi Quilter facilities just north of Salt Lake City and are fully prepared to sell and service all Handi Quilter has to offer. Handi Quilter is extending its special pricing on the 18" Avante and the 24" Fusion through the end of the month as well as on the Amara as it makes its debut! Come in and let us tell you all about it!


Our Amara, Handi Quilter's newest 20" long arm machine, should be arriving this month! It's a pretty talented machine with a laser light for your needle, more lighting for your machine throat, adjustable handlebars and the dual set-up capabilities of the Studio Two table, just to mention a few bells and whistles!

Now's the time to buy! Make your Christmas dreams come true! Or at least your quilting dreams ;-)
---

Don't forget that Fridays are our Sewing Bee Days - come in and join the fun! Bring a project you are working on, meet new friends and get some quilting done! 10am - 4pm.

The Blue Hen will be closed Saturday, December 23rd - Tuesday, December 26 so that we all can enjoy the holidays with our families.

Thanks so much for subscribing to our newsletter! Hope to see you soon!
Erin




73 Marrows Road
Newark DE 19713
302-533-5215