Skip Navigation
Website Accessibility

The Cats' Away Sale!

---
73 Marrows Road, Newark, DE 19713 302-533-5215
Monday - Friday 9:30 - 6:00 Saturday 9:30 - 4:00
www.bluehenquiltshop.com

Remember to "click to load images"

---
Erin and John are in Salt Lake City this week learning all about the Handi Quilter machines! When they return on Monday, November 20th, the Blue Hen Quilt Shop will be a full service Handi Quilter shop! Yay! Let us know what you need - Service, gadgets or maybe a Long Arm of your very own. Handi Quilter has some nice specials right now but they won't last for long! Come in and see us!


But wait, this was supposed to be about the cats and the fact that they are not here!
---
Meanwhile, there are other things happening at the Blue Hen too!

Blue Hen Paper Piecing Club with Jody Bitzel


We are doing the top left block! They are all stunning!
Saturday, November 18th 1 - 4 $10

Strip Club with Erin Underwood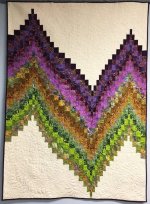 Saturday, November 25th 9 - 10 am $10
Door prizes, Donuts, Demos and Show n Tell!
If you finished last month's top, bring it in to show for 10% off your shopping that day!

Tessellating Trees with Erin Underwood


Saturday, November 25th 10:30 - 3:30 $35
Quilt as you Go! Perfect for Holiday gifts!

Make and Take Scissor Holder with Jody Bitzel


Saturday, Dec 2nd 9:00 - 10:00 $5
Fast and fun - perfect gift for your sewing friends!

Aunt Annie's Christmas Trees! with Jody Bitzel


Saturday, Dec 2nd 10:30 - 3:30 $35
Hurry - this one is filling fast!

Yellow Brick Road with Mitzie Keys


Tuesday, Dec 5th 10 - 2 $25
Perfect for the beginner as well as the more experienced!

---
---
Thanks so much for subscribing to our newsletter! Hope to see you soon!