Skip Navigation
Website Accessibility

Blue Hen Quilt Shop Extra Exciting News!

Extra Special N E W S L E T T E R
---
As many of you already know, we are participating with eight other fantastic Quilt Shops to bring you the Quilts Around the Bay Shop Hop. Our very first event in March of 2017 was a wonderful success thanks to all of you! As a thank-you and in anticipation of Quilts Around the Bay, 2018, we are having
Big! Fat! Collaborative SALE!
From Friday, September 22 to Sunday, October 1st, all of the Quilts Around the Bay Shop Hop shops are offering you fantastic opportunities to save money – Up to 25% off!

Each shop is approaching this sale with their own spin on things so check in with them to see what their specials are.

And mark your calendars for Quilts Around the Bay, 2018, Friday, March 2nd through Sunday March 11th. Our theme this year is Stars Over the Bay – all pieced blocks! We've extended our weekend hours to improve your chances of getting all the way around the Chesapeake Bay to visit all the shops! Are you up for the Challenge? Want to win prizes? Like road trips and free patterns? Remember, if you finish the route and visit all nine shops, you automatically receive at 10% coupon card good for a whole year and you become eligible to win great prizes! Mark your calendars!
In the meantime, here's a little snippet of news from us and all the other shops … we are busy, busy busy bringing you the best of the best in the quilting world. Stop by and see us!



Big Fat SALE!
Click Here for details!
---
CLASS BLAST! There's still room in these September classes too - sign up soon!
Handi Quilter Long Arm Rental Training Class with Erin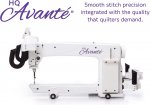 $60 Several times to choose from - or call the shop to set up a time that works for you!

Beginner Quilting with Mitzie Keys


Tuesday Sept 26th, Oct 3rd, 10th and 24th 10 - 2pm $75

Featherweight Maintenance with George Simacourbe
Saturday, September 30 9:30 - 12:30 $25
Tuffets and Squffets with Erin Underwood
Sunday, October 1st 10 am - 4 pm $50
Square or Round - both done in a day!
---
Don't forget that Fridays are our Sewing Bee Days - come in and join the fun! Bring a project you are working on, meet new friends and get some quilting done! 10am - 4pm.

Thanks so much for subscribing to our newsletter! Hope to see you soon!
Erin




73 Marrows Road
Newark DE 19713
302-533-5215