Skip Navigation
Website Accessibility

Blue Hen Quilt Shop Class Blast!

---
---
We thinking about the holidays already! Yep - Christmas in July! And this year it's all about staying organized. Lots of little pieces that come together into really cool quilts! Except for the Wine Tote - that's to help you deal with the organization! Need something to do next week? We've got a little something for everyone.

Dogs in Sweaters with Mitzie Keys

Saturday, April 22nd 9:30 - 3:30 $40
Pattern required. Learn how to insert a zipper for a pillow too!



Christmas in July!


Wine Tote with Jody Bitzel


Monday July 24th 10 - 1pm $30.

Rainbow Cross with Jody Bitzel


Wednesday, July 26th 10 - 4pm $40

Dwight the Deer with Julia Penna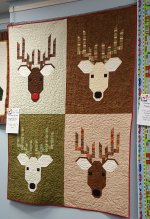 Thursday, July 27th 10 - 4pm $40

But if it's too early to think about Christmas, we've got a little Halloween going too! Come check out our Glow-in-the-Dark Skeleton Panel! It's hanging in the window. If anyone is driving by after dark, you might be able to see it glowing from the street!

Hope to see you soon!
Erin




73 Marrows Road
Newark DE 19713
302-533-5215