Skip Navigation
Website Accessibility

Blue Hen Quilt Shop News!

---
Thank you all for subscribing to our Newsletter!

This email newsletter is packed with inspiring pictures.
Your email program may hide these pictures until you click on a button to display the images!
Click that button! It's worth it!


I know I'm a little late getting this one out but we've been sooooo busy here at the Blue Hen Quilt Shop. Row by Row started in June! Kits are ready for our Buckle Up! - patterns are free! Come by and pick yours up!


Do you like to quilt? Do you like to cruise? We are working with Quilt and Cruise, a local travel agency, to bring your fabulous vacation opportunities in 2018! Check them out Cruiseandquiltcom.

If you like to sew on the go, this is for you! Learn a new technique or quilt pattern from a national teacher while at sea and then do the tourist thing in port! Five destinations to choose from - where do you want to go?

What's New at Blue Hen this month!
Australian fabrics! We've restocked and add some new ones - they are scrumptious and feel delicious too.


Butterflies and dragonflies

.

And Christmas cheer! More are coming in this month too - stay tuned... meanwhile ... who can resist those penguins! What about a quick Advent Calendar panel.


Not ready for Christmas yet - how about a little more nature stuff?



Now - what to do with all that fabric...



And if you need to unsew anything, why not do it in style?

These beautiful seam rippers and mechanical pencils will make you feel like all is right with your quilting... even if you are ripping out!

---
Classes in July
Free Motion Machine Quilting with Erin Underwood


Saturday July 8th 9:30 - 3:30 $50

Blue Hen Applique Club with Mitzie Keyes

Saturday July 15th 9 - Noon $10
Technique is Back Basting.
Blue Hen Paper Piecing Club with Erin Underwood



Saturday, April 15th 1-4 pm $10




Pattern required. We are doing block 11. See cutting instruction in the Arcadia pattern.



Dogs in Sweaters with Mitzie Keys

Saturday, April 22nd 9:30 - 3:30 $40
Learn how to insert a zipper for a pillow too!



Christmas in July!


Wine Tote with Jody Bitzel


Monday July 24th 10 - 1pm $30.

Rainbow Cross with Jody Bitzel


Wednesday, July 26th 10 - 4pm $40

Dwight the Deer with Julia Penna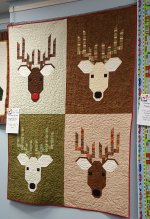 Thursday, July 27th 10 - 4pm $40

Tree Time with Erin Underwood


Saturday, July 29th 9:30 - 3:30 $40



---
The Chesapeake Bay Blues kits are back in stock! If you have been thinking about the kits, jump on it soon! The pattern will be retired December 31st!



Don't forget that Friday's are our Sewing Bee Days - come in and join the fun! Bring a project you are working on, meet new friends and get some quilting done! 10am - 4pm.

Thanks so much for subscribing to our newsletter! Hope to see you soon!
Erin




73 Marrows Road
Newark DE 19713
302-533-5215