Skip Navigation
Website Accessibility

Blue Hen Quilt Shop News!

---
Thank you all for subscribing to our Newsletter!

This email newsletter is packed with inspiring pictures.
Your email program may hide these pictures until you click on a button to display the images!
Click that button! It's worth it!


---
Saturday, May 6 was originally scheduled as an open house to debut my new ruler but since I am still working on samples (check out our facebook page to see what I've been up to), I'm thinking we should try to have fun some other way. Sew.... how about a Jelly Roll Race!

Ever done one - they are fast and fun! You need a 40 precut 2-1/2" strips to play. Sign up here for $5 and bring your jelly roll and your sewing machine! If you buy your jelly roll at our shop, that $5 will go towards your purchase price of your precut roll of strips.

The race starts at 11 am. Sign up here!
Winner gets a $25 gift certificate to the store and their finished quilt top, of course!

---

What's New at Blue Hen this month!
Fabric, fabric and more fabric! Come and see! The shelves are filled to the brim!


Some Flora and Fauna...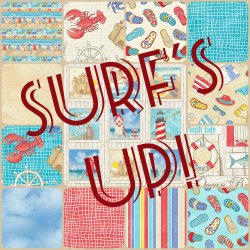 Some beachy things and back in stock is the stunning beach panel that makes you feel like you are really there!

The Serenity Prayer - good advice for all! And beautiful complimentary fabrics too!


Some beautiful new blenders. There are 60 bolts in the Spin Collection!

Oh we do have a few new patterns in. Look for our Dogs in Sweaters sample in Christmas sweaters (as soon as Mitzie can get it done ;-) and Stepping Stones - an nice introduction into the stunning Judy Niemeyer paper piecing techniques. These will both be new classes coming soon too!

---

Classes in May

Make and Take - Tea Bag Cozy with Jody Bitzel

Saturday, April 6th 9 - 10 am $5
Great Mother's Day gift! Or keep it for yourself - it's perfect for tea bags and other necessary items!


Quick and Cute Tuffets with Erin Underwood
Saturday, May 13th - 9:30 - 3:30 $50
There's still a few spots left - come join the fun and finish your tuffet in one day!

Blue Hen Applique Club with Mitzie Keyes
Saturday May 20th 9 - Noon $10
Technique is Freezer Paper on Top!
Blue Hen Paper Piecing Club with Jody Bitzel
Saturday, May 20th 1-4 pm $10
Pattern required. Kits available! Make one block or do the whole quilt! Great for beginners to the very experienced paper piecers.
Free Motion Machine Quilting with Erin Underwood
Saturday, May 27th 9:30 - 12:30 $50

---
Don't forget that Friday's are our Sewing Bee Days - come in and join the fun! Bring a project you are working on, meet new friends and get some quilting done! 10am - 4pm.

Thanks so much for subscribing to our newsletter! Hope to see you soon!
Erin




73 Marrows Road
Newark DE 19713
302-533-5215