Skip Navigation
Website Accessibility

Blue Hen Quilt Shop News!

---
Thank you all for subscribing to our Newsletter!

This email newsletter is packed with inspiring pictures.
Your email program may hide these pictures until you click on a button to display the images!
Click that button! It's worth it!


What's New at Blue Hen this month!

Well first and foremost, I must toot my own horn! My latest ruler, the Creative Grids 22.5 degree Triangle is here! And so is the Squffet! And a few other great ways to use a 22.5 degree ruler. More to come! We will be showcasing this talented ruler in May - stay tuned. Meanwhile it's available now.


Other great patterns new to the Blue Hen include...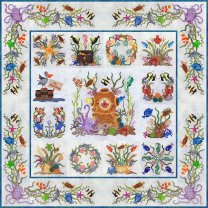 Some cool new fabrics!

Ocean Tides



And there's a bunch more just delivered - too new for pictures!

We are proud to say we now carry Aurifil 80wt thread! Great for Hand Applique!

---

Classes in April
Make and Take - Wine Shade with Jody Bitzel

Saturday, April 1st 9 - 10 am $5
Turn an ordinary wine glass into an adorable tea light!


Featherweight Maintenance with George Simacourbe
Sunday, April 2nd 1 - 4 pm $20
George will have Maintenance Kits available $10 each.


One Block Wonder with Jody Bitzel
Saturday, April 8 and 29th (2 parts) 9:30 - 3:30 $50


Blue Hen Applique Club with Mitzie Keyes
Saturday April 15th 9 - Noon $10
Technique is Freezer Paper underneath!
Blue Hen Paper Piecing Club with Erin Underwood
Saturday, April 15th 1-4 pm $10
Pattern required. Kits available soon! Fabric arrives on Tuesday!
Just Quilting by Hand with Madge Ziegler
Saturday, April 22nd 9:30 - 12:30 $30

---
Ruler of the Month
Creative Grids Hexagon Trim Tool


With every purchase you get a free companion pattern!
Many thanks to all who made the Quilts Around the Bay Shop Hop a success! We hope you had great fun visiting all the shops and getting to see all they have to offer! Look for this fun event the first weekend in March of next year! We still have a few kits available for our beautiful Chesapeake Bay Blues quilt. If you ordered one and haven't heard from us yet, please get in touch with us so we can set yours aside.

Don't forget that Fridays are our Sewing Bee Days - come in and join the fun! Bring a project you are working on, meet new friends and get some quilting done! 10am - 4pm.

Thanks so much for subscribing to our newsletter! Hope to see you soon!
Erin




73 Marrows Road
Newark DE 19713
302-533-5215