Skip Navigation
Website Accessibility

Blue Hen Quilt Shop Anniversary Sale!

---
73 Marrows Road, Newark, DE 19713 302-533-5215
Monday - Friday 9:30 - 6:00 Saturday 9:30 - 4:00
www.bluehenquiltshop.com

Remember to "click to load images.".Lots of good ones here that you don't want to miss!
---

10% Off Everything in the Shop
February 13-18!

Yes! As of February 15th, it's official! The Blue Hen Quilt Shop will be open for one whole year! And what a great year it has been! We are sew thankful to all of you who have made Blue Hen's first year such a success. So grateful that we are having a SALE! And we are offering you a chance to win a wonderful basket of quilty things too! Come on in - look around, get inspired and put your name in the basket for a chance to win the prize!


* Sale does not include classes and commission items. Sale is "in store" only - no internet sales. Need not be present to win the Anniversary Raffle Basket. Drawing to be held at 4pm, Saturday, February 18th, 2017.




---
Here's a little reminder of the February activities at the Blue Hen Quilt Shop - just in case you need to get out of the house!

Fantastic Flying Geese with Erin Underwood



Thursday, February 15 10:00 - 2:00 $30
Create geese "in the round" with no curved piecing and no applique. New to paper-piecing? This is a good one to start with! Make the whole quilt or just finish off the center circle for a wreath wall hanging or pillow top!




Hand Applique Club

- Starts Saturday, February 18 - 9:00 am to Noon. This month's technique is marking backgrounds and making stems. We have adorable state blocks patterns, Delaware, Pennsylvania, New Jersey and Maryland, to start you out or bring your own. See all the techniques on the website under the class supply list. $10 a month. Sign up in advance to reserve your spot! Click Here for more details!





Cathedral Windows by Machine with Erin Underwood



Saturday, February 18th 1:00 - 4:00 $25
Traditional Cathedral Windows completely updated! All machine - all done so much faster than by hand!

Scrappy Lone Star with Marti Chamberlain



Tuesday, February 21st 10:00 -4:00 $45
The Ladybug Quilt Guild has offered to share their workshop with the Blue Hen crowd! Check out this gloriously scrappy star - you too can have one of your very own!

Sew on the Go Ruler and Mat Tote with Mitzie Keys



Saturday, February 25th 9:30 - 3:30 $40
Need a practical way to transport your stuff for workshops and retreats? This bag is perfect for those oversized items like your cutting mat and sewing machine table extension.


---
Some things to look forward to in March...

Stitcher's Garden Challenge


Your submission is due March 1st! Then the quilts will hang in the shop so everyone can come see it and vote on their favorites! Yep - it's a little quilt show at the Blue Hen starting March 8th!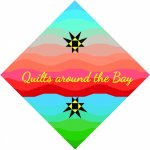 Quilts Around the Bay Shop Hop
March 3rd - March 12th - the first annual Quilts Around the Bay Shop Hop! You've got 10 days to visit all nine shops, pick up your free patterns, enter to win prizes and get inspired by all the great quilty things you see along your way!



Here is our design for all the free patterns you can pick up as you visit the shops! The Flying Geese is our block. Kits available! Check out the other shops quilts on facebook here: https://www.facebook.com/QuiltsAroundTheBay/

Passports for the Quilts Around the Bay Shop Hop will be available on our website and facebook for you to print off yourself or pick up in the shop!



Thanks so much for subscribing to our newsletter! Hope to see you soon!