Skip Navigation
Website Accessibility

Blue Hen Quilt Shop News!

---
September 2016 73 Marrows Road, Newark, DE 19713 302-533-5215
Monday - Friday 9:30 - 6:00 Saturday 9:30 - 4:00
www.bluehenquiltshop.com

This email newsletter is packed with inspiring pictures.

Your email program may hide these pictures until you click on a button to display the images!

Click that button! It's worth it!



And for those of you who actually open this newsletter and read it, you are in for a treat! It's a


Labor Day Weekend Sale!


One day only - Saturday, September 3rd - 9:30 - 3:30! All fabric on the bolt is 20% off with a minimum of a one-yard cut! This included fabric that just arrived and the sale rack! Every fabric on the bolt! Time to stock up!


---

What's New at Blue Hen this month:


Ruler of the Month!


Each month we will highlight a different ruler! Impromptu demos will be available to show you all the great things you can do with the ruler - just ask us to show you! And when you purchase the ruler, you will receive a free Cut Loose Press pattern! A great way to get started using your new tool!

This month our Ruler of the Month is the Creative Grids 15-degree Triangle ruler designed by Erin Underwood. It's a talented triangle that makes a myriad of quilty things and even a tuffet!
Here's the ruler
and here's just a few of the free patterns to choose from!

---
New Fabrics and patterns!

Batiks and more Batiks. Even more came in today (August 31st) but John hasn't had time to get them into inventory yet. The collection is called Jellybean! Just as sweet as can be!


Dig it! Perfect for your little dirtball! Fall is coming - oh, the colors! My personal favorite this month!

20 new bolts of very cool colors - here's a few of the Bella Suedes.



Some new patterns to inspire you!



______________________________________________________________________________________
Classes in September

Split Diamond Table Topper with Erin Underwood


Wednesday, Sept 7 10:00 - 2:00 $30
Learn a fast way to create split diamonds - love the dimension!

Rope Basket with Jody Beitzel


Wednesday, Sept 7 5:00 - 8:00 $25
Learn this clever technique to make rope bowls, placemats, coasters and so much more!

Fantastic Circle with Erin Underwood


2 parts - Thursday, September 8th and 22nd 10:00 - 4:00 $50
Who knew jelly rolls could be so talented?! Join us to whip up this beauty with some 2-1/2" strips.

Free Motion Machine Quilting with Erin Underwood


Saturday, September 10 9:30 - 3:30 $50
Perfect for the beginner as well as the experienced quilter - start with meandering, finish with feathers!

Shaggy Chic Pillow with Susan Crane


Saturday, September 17 9:30 - 12:30 $25
Fringe a pillow or a rug!

Iron Caddy with Susan Crane


Saturday, September 17 1:00 - 4:00 $30
Clever project that is super functional! No need to wait for your iron to cool after workshops! Pack it up and go!

Do You Know the Way to Hand Applique with Madge Ziegler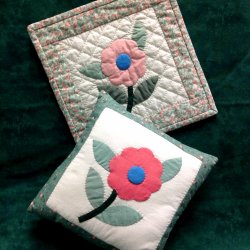 Wednesday, September 221 10:00 - 4:00 $50
Make this little jewel all by hand! Learn the traditions of hand applique from an expert!

T-Shirt Quilt with Madge Ziegler


2 parts - Friday, Sept 23 and Oct 21 1:00 - 4:00 $60
Back by popular demand - make your heirloom quilt just in time for the holidays. Or graduation - you've got time!

Quick and Cute Tuffets with Erin Underwood


Saturday, September 24 9:30 - 3:30
Yes, it true! Done in a day! Come join us to make this one-of-a-kind piece of furniture!

Table Topper Tuesday
Halloween Mug Rugs with Jody Beitzel


Tuesday, September 27 10:00 - 4:00 $40
Learn all about fusible applique with these spooky snack time playmates!

Thanks so much for subscribing to our newsletter! Hope to see you soon!