Skip Navigation
Website Accessibility

Blue Hen Quilt Shop News!

---
This email newsletter is packed with inspiring pictures.
Your email program may hide these pictures until you click on a button to display the images!
Click that button! It's worth it!
---
Wow! We are rolling into our sixth month of quilt shop ownership! We have to say a sincere THANK YOU for all your support and warm wishes. Things are going well here and it is all because of you!

Christmas in July was a rousing success! Hope you are all working on your Holiday gifts - best to start now and not in November, or even December! To spur you on a little bit more, all of our Christmas fabrics are on sale this week only, August 1 - 6th, Get 20% off each and every yard you buy - minimum purchase is one yard! Sale price does not apply to less than a yard - sorry.


What's New at Blue Hen this month:
Our Block of the Month has officially started! Quiltricks Door Hangers! $17.50 a month if you sign up in advance. If you want to take your chances and go month-to-month, the cost is $19.95. Call the shop for more details 302-533-5215!



New Fabrics!

Arabesque Sunkissed Autumn Splendor


Sunflowers and Crabs - Summertime fun! and of course, more batiks and Australian beauties!

New Notions!
Check out these cool Hexi template cutters. Make your own paper templates! Get a giggle every time you need to thread a needle with the Needle Beetle.



New Activity - Table Topper Tuesday!
One Tuesday a month, Jody will guide you through a creative project for your table. It might be a table runner, mug rugs or placemats - there are lots of things to top your table! Check the calendar for dates. What Does the Fox Say starts it all on Tuesday, August 16th, 10:00 - 4:00 $40.




______________________________________________________________________________________
Classes in August

Modern Split Dresden


It was today! ;-) You missed it! But you can still make your very own - we have the pattern!

Bargello Breeze with Erin Underwood


Diamond Bargello and NO SEAMS TO MATCH!
Wednesday, Aug 3 10:00 - 4:00 $40

Paper Piecing Basics with Erin Underwood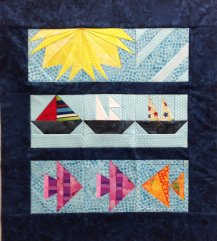 Want to learn this cool technique for making funky shaped blocks? We start simple with the sky, move up to a fish, a boat and finally the sun!
Saturday, Aug 6 9:30 - 3:30 $40

Fusible Applique Basics with Erin Underwood


Miss Daisy teaches you three ways to use fusible applique in your quilt.
Wednesday, Aug 10 10:00 - 2:00 $30

Pillowcase with Mitzie Keyes


Wednesday, Aug 10 6:00 - 8:00 pm $12.50 includes the kit.

Ocean Frolic with Jody Beitzel


Yo-yos, rick rack, fusible applique and prairie points all in one quilt!
Saturday, Aug 13 9:30 - 3:30 $40

Beginner Machine Piecing with Susan Crane


Let Susan and Alex Anderson show you the ins and outs of machine piecing your first quilt!
Four Sundays August 14, 21, 28 and Sept 11. $75

Table Topper Tuesday
What does the Fox Say with Jody Beitzel


Tuesday, Aug 16 10:00 - 4:00 $40

Classic Umbrella with Susan Crane


Yes, your very own custom designed umbrella!
Saturday, August 20 9:30 - 3:30 $50 includes pattern

Hexi Flower Fun with Erin Underwood


A little handwork, a little machine...
Wednesday, August 24 10:00 - 4:00 $40

Hand Applique Mitten Ornament with Madge Ziegler


Learn a new technique without a big commitment!
Friday, Aug 26 9:30 - 12:30 $30

Diva Frame Wallet with Susan Crane


Saturday, Aug 26 1:00 - 4:00 $25

Curvy Log Cabin with Erin Underwood


Pick your pattern! We work on the building blocks for your personal favorite!
Saturday, Aug 27, 9:30 - 3:30 $40