Skip Navigation
Website Accessibility

Blue Hen Quilt Shop News!

---
Thank you all for subscribing to our Newsletter!


What's New at Blue Hen this month!
Fabric, Patterns, Classes and Clubs!
Stocking up our Toscona blenders- 40 more colors! But if you prefer the softer side, there are 20+ bolts of cream and beige batiks. Perfect for backgrounds. Patriotic fabrics are starting to roll in - a few more collections are expected this month.
Patterns and books keep coming in. Here's a few. Check out the Curvalicious Ruler. It comes with this Table Runner pattern - just gorgeous. This cool Table Treasures Runner uses the Creative Grids 30-degree ruler.
My favorite this month is the Whales! Straight out of the Fat Quarter Baby Quilts Book - adorable. We've got it kitted!
New dies for the Accucut! Tumblers, Churn Dash, Wedding Ring, Hexies and Winding Ways. We've pre-cut a few tumblers and Churn Dash blocks already! We will have hexis and hexagon foundation papers ready in the next few days too!

You are invited to come in and use our Accucut Studio Die Cutter . There is a $10 fee - good for one hour of cutting. Other dies include 1-1/2' strips, 2-1/2" strips, feathers, 5" and 10" squares, Take 5 block and a few more.
---
Classes in May
Free Motion Machine quilting with Erin Underwood


$50
Saturday, May 7th 9:30 – 3:30
We start with the basics, sandwich the quilt, talk about batting, thread and needles, work a little with the walking foot then its off to meander and loopty-loop. And that's all before lunch. We continue building with stitching patterns and end the day doing feathers!


Snappy Slipper with Jody Beitzel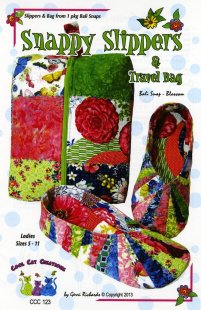 $40
Wednesday, May 11th 10:00 - 4:00
Dress up your feet! Its easier than you think to make shoes!

Cathedral Windows with Madge Ziegler

$30
Saturday, May 14th 1:00 - 4:00
Learn the classic Cathedral Window done by hand! Turn it into a pin cushion or a tree ornament or keep on going and turn it into a quilt!
Beginner Machine Piecing with Susan Crane
$75
Thursday, May 19th, 1:00- 4:00 or 6:00 - 9:00 pm
This four part class is every Thursday for four weeks.

Want to learn the basic? Need a refresher course on rotary cutting, fabric choices, piecing techniques? Two sessions available.



Strippy Stars Mini with Linda Scholz


$40
Saturday, May 21st 9:30 - 3:30.
This one is a mini quilt but you can use the technique to make bigger starts fast with the Strippy Stars ruler!


Diva Frame Wallet with Susan Crane


$30
Wednesday, May 25th 6:00 - 9:00

Easier than it looks. It's a proud feeling when you are pulling your money out of the wallet you made yourself!

Mondo or Midi Bag with Linda Scholz


$30
Friday, May 27th 10: 00 - 2:00
You'll need this bag for all your beach stuff Memorial Day weekend. Get it done just in time! And if you need more than one, we've got the interfacing refill panels just waiting for you.



---
New Club at the Blue Hen!
Finally Finished!
Got UFOs or as I like to refer to them, WIPs (Works in Progress). It's a rare quilter who doesn't. Want to get
motivated to get them done? Join the Finally Finished Club!



Rules of the club.
1. Sign up any time of the year. Membership is free and good for one year from the date that you sign up. Come into the shop and fill out a membership form that is kept on file at the shop. You may want to take a copy too just to remember what you said you were going to do. :-)

2. List up to 12 quilting projects that you have started in some form or fashion. You may have just the fabric and pattern. You may have cut it out. Maybe you've done a little piecing already. It could be a top that needs quilting and binding. It can not be a plan, a promised quilt, a percolating idea or even just a purchased pattern. Only one pot-holder, key fob or bag per year, please.

3. Your list must be kept in the Finally Finished Club File at the Blue Hen Quilt Shop.

4. Bring in a finished item on your list. Finished is defined as quilted and binding attached. Label is optional.

5. Check that WIP off your list and receive 10% off your purchases that day. One finished WIP per day.
---
Hope to see you at our Friday Sewing Bees! 10 am to 4 pm. First, second and third Fridays and sometimes the fourth. Check our calendar to be sure.