Skip Navigation
Website Accessibility

Blue Hen Quilt Shop News!

---
Thank you all for subscribing to our Newsletter!


What's New at Blue Hen in April!
Our Classes are starting! Yay! Have you signed up for your favorite projects yet? You can do it online, on the phone or in the store!

First up is the Quick and Cute Tuffets! The fun starts Saturday, April 2nd, and there is still room if you want to join us. Who can resist this little bit of whimsy for your home. Grandchildren and pets look great sitting on their very own tuffet, just sew you know...





But there's more, of course. We have a wide selection of classes - some are even FREE! Yes, I said it, FREE. And by FREE, I am referring to our "Make it and Take it" on Saturday, April 9th at 1 pm. It's the FOBIO - a darling little key fob that uses half a zipper and a little bit of fabric. Bring your sewing machine (registration required) - we supply the rest. Did you know that April 29th is National Zipper Day? You could wear your new Fobio all day long in observance of this special day!




Why not make a day of it on Saturday, the 9th, and start out in the morning with the Fold 'n Stitch Wreath, 9:30 - 12:30. This wreath is soooo popular and soooo easy too! Three fabrics and some fusible foam and you are practically there!




There are lots of other creative things coming up in this month and next. You could make your own slippers, or learn a little bit about color, perfect your hand quilting technique, make quilts full of turtles or just play with Hexies. There's a Tee-shirt quilt class and Cathedral Windows by Hand. Check out our calendar of classes! Let us inspire you!
http://www.bluehenquiltshop.com/classes.htm

We've got

Beach Week coming together in June - Seahorses any one? C

hristmas in July is shaping up, too. It's going to be a tree-themed week.

As many of you know, Erin has been travelling quite a lot in March. As a result, she estimates that she has handed out about 1500 Blue Hen Quilt Shop business cards with her name on them. Di

d

you get one? Do you still have it? If you do, it has just become valuable. Bring it in during the month of April and save 5% on your purchases that day.

And yes, we are participating in Row by Row which starts June 21st. Our license plates are already here! And our free pattern is coming together quite nicely - oh, the anticipation...

Here's some of the fabrics that have come in since the last newsletter.



Widebacks Tranquil Tides Stonehenge Old Glory Tonga Pinata Batiks


Cats Meow More Aussie Fabric Batiks by Mirah Pet Rescue

Not to mention all the new patterns and rulers! And needles and thread! And other cool stuff!



---

Some more classes in April and May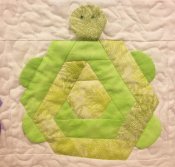 T-Shirt Quilt Just Quilting by Hand! StripLash Turtle Time Silk Rope Bowl

Diva Wallet Strippy Stars Mini Mondo Bag Free Motion Machine Quilting

Hope to see you all soon at the Blue Hen Quilt Shop!