Clubs in January
Long Arm Club

Saturday, January 20th 9:00 - 10:30 $15
We will cover techniques for stand-up long arm machines. Areas to be covered will vary monthly, but will be geared towards building your long-armed skills, and challenging your creativity for free motion quilting by incorporating usage of rulers and quilting gadgets among other techniques. This class is lecture-demo with some hands on. Some discounts on Long Arm accessories will be featured each month. No matter which machine you own you will learn techniques to help build your quilting skills. This club will meet the third Saturday of each month at 9am. January is Couching and Quilting!
Handi Quilter Ruler of the Month Club
Saturday, January 20th 11:00 - 12:30
Six Month program for $29.00 a month or pay all six months in advance and save 10%!
Get exclusive ruler kits and tutorials delivered straight to your local quilt shop each month! The HQ Ruler of the Month Club is a great opportunity to challenge your quilting skills and build ruler work confidence. Each month in the six-month series features a debut acrylic ruler paired with mentorship from your local shop, step-by-step video instruction, and design ideas. You do not have to be a Handi Quilter owner to participate!
Blue Hen Paper Piecing Club
Saturday, September 20th 1 - 4 pm $10
Three more blocks to go! This month features block #2 Peacock Feathers.

Strip Club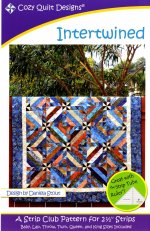 Saturday, January 27th 9 am $10
Intertwined