Some things to look forward to in March...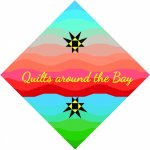 Quilts Around the Bay Shop Hop
March 3rd - March 12th - the first annual Quilts Around the Bay Shop Hop! You've got 10 days to visit all nine shops, pick up your free patterns enter to win prizes and get inspired by all the great quilty things you see along your way!
Each shop will have their own basket of goodies to win or go for the big ones - a Janome Sewing Machine, a Go! Baby Fabric Cutter set and oodles of quilting accoutrements guaranteed to bring you joy! And if you want a sneak peak at the patterns, our sample using all the beautiful blocks from each shop is on the long arm right now. Come in a take a look!
Stitcher's Garden Challenge



The Blue Hen Quilt Shop challenges you to use either the green or blue version

of this adorable fabric in a quilted item (quilt, bag, table runner...)

Bring your finished quilted item back into the Blue Hen Quilt Shop by March 1, 2017.

Quilted items will hang for 30 days in the shop and customers will be invited to vote on their favorites.

The piece with the most votes will win a $100 gift certificate to the Blue Hen. There's still time for you to join in the fun!

March's Make and Take is an adorable Hoop Organizer! Sewing machine needed this time!